2NE1 or CL – who will be the last to join the May musician fest?
YG Entertainment announced that it will either be 2NE1 or CL making a comeback on May 28. The music industry dubs May as a month of "musician fest", because a number of big artists including Lee Hyori, Shinhwa, and 2PM made their comebacks in the month. And now, it looks like either 2NE1 or CL will be a part of the "fest."
On May 13 at 2p.m, YG posted through its official blog a teaser image of who is to make their comeback on May 28. In the image, the names 2NE1 and CL were highlighted, which excited the fans. As either of them will be making a comeback around the same time as Lee Hyori, Shinhwa and 2PM, a competition will be inevitable.
Every time 2NE1 made their comeback, adjectives like "unbeatable" followed their name – they swept across music charts and were always the hot issue in the industry. And if it is CL making a comeback, it is even more exciting as the fans have not yet seen a solo performance of the artist, while other members like Bom and Dara have already released their own albums. So if it is just CL this time, the effect will be quite similar to that of the entire group.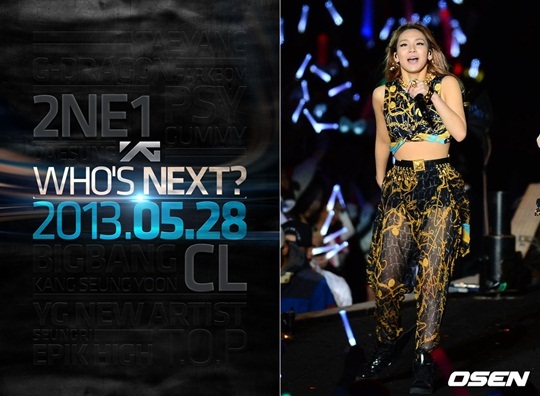 Fans were 2NE1-hungry as the group has not released any new songs since "I Love You" last year. But they have been quenching the thirst of the patiently waiting fans by appearing in Psy, G-Dragon and the American hip-hop legend Snoop Dogg's Korean concerts as a guest artist. No matter where they are, fans are always waiting.
Apart from 2NE1 and CL, there are artists lined up to make a comeback from YG. Personnel from the Entertainment said, "starting from May 28 until the second half of this year, there will be scores of YG artist making comebacks. Along with our CEO Yang Hyun-suk, the artists and staff members are putting concerted effort into preparation." Now the expectations of the fans will only go higher.
Source: yg-life.com